All Access Cards
DON'T FORGET TO BRING YOUR 2017 TICATS ALL ACCESS SEASON SEAT HOLDER CARD ON GAMEDAYS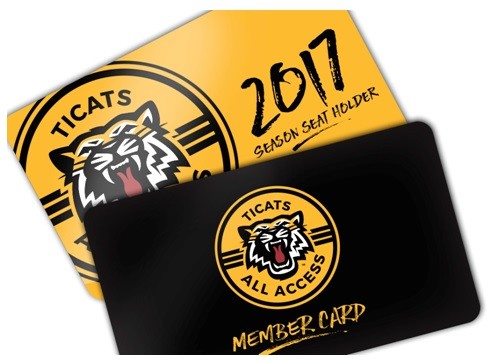 Become an All Access member now!
Visit allaccess.ticats.ca now to sign up for free and become a Ticats All Access member.
Where can I pick up a 2017 All Access card?
Season seat holders get their gold card mailed directly to them. Additional cards can be requested at ticats.ca/request-a-card
Black 2017 Ticats All Access member cards can be picked up at the Tiger-Cats Shop at Tim Hortons Field during the week and at the All Access customer service window beside Gate 1 on gamedays
What does the card get me?
**SEASON SEAT HOLDERS ONLY** A 15% discount on food and non-alcoholic beverage purchases* at the nine (9) permanent concession locations around Tim Hortons Field (see map below).  Swipe your card when you pay to unlock the discount. Please note: Your card will not work at portable drink and food carts and temporary concession locations.
Your  10% off discount on merchandise at the Tiger-Cats Shop flagship store and kiosks located around the stadium.
Earn All Access yards on your purchases. Ten (10) Ticats All Access yards for every dollar spent.  (you must connect your All Access card to your All Access profile via allaccess.ticats.ca, via the 18-digit number on the back of your card, before attending the game to ensure your card is earning yards for your account).
CONNECT YOUR CARD TO YOUR PROFILE BEFORE YOU COME TO THE GAME
Don't leave any yards on the table! Make sure you take a few moments to connect your 2017 Ticats All Access card to your Ticats All Access account via your allaccess.ticats.ca dashboard. Log in to All Access and enter the 18-digit code found on the back of your card. If you don't connect your card to your profile, you can't earn yards for your purchases at Tim Hortons Field!
REQUESTING ADDITIONAL CARDS + PICKING UP THE CARDS YOU ALREADY REQUESTED
Every season seat holder account received one (1) 2017 Ticats All Access season seat holder card when they renewed or purchased their seats for the 2017 season. If you have multiple tickets under your account, feel free to request additional All Access cards for your family and friends that attend games with you (up to the total number of tickets in your account). Visit www.ticats.ca/request-a-card if you require additional cards.
HAVEN'T RECEIVED YOUR ORIGINAL CARD? ISSUES USING YOUR CARD ON GAMEDAY? OTHER QUESTIONS?
If you haven't received your primary 2017 All Access season seat holder card via Canada Post, please email us at allaccess@ticats.ca.
If you run into any issues on gameday, please locate the closest CAT Team member, or visit the Ticats All Access Customer Service window at the Tim Hortons Field Box Office (located beside Gate 1A at the corner of Balsam Ave. N. and Cannon St.)
For all other questions, visit our FAQs page or contact a Tiger-Cats customer service representative at 905-547-2287 or allaccess@ticats.ca.
*The 15% discount is the average savings. Individual savings range from 12-17% across applicable items. Discount not available at cart/temporary concession stands. Ticats All Access card must be presented at point of purchase to receive discount. Applicable for Hamilton Tiger-Cats home games at Tim Hortons Field only. Discount is not applicable on alcoholic beverages.
Levy Restaurants
The Tiger-Cats are thrilled to announce that the team has selected Levy Restaurants, the leader in premium sports and entertainment dining, as the food and hospitality partner for Tim Hortons Field.
Partnering with Levy, the team will design a new, best-in-class fan experience, creating unique new dining spaces throughout the stadium, expanding menu options for all fans and bringing a new level of hospitality.
Levy Restaurants, founded in Chicago in 1978, is recognized as one of America's fastest growing and most critically acclaimed restaurant companies, and is the leader in premium sports and entertainment dining. Levy was recently named one of the 10 most innovative companies in sports in the world by Fast Company magazine. The company's diverse portfolio includes award-winning restaurants such as James Beard Award-winning Spiaggia in Chicago, Fulton's Crab House, Portobello and Wolfgang Puck Grand Café at Walt Disney World Resort, renowned sports and entertainment venues like Wrigley Field in Chicago, Churchill Downs in Louisville, STAPLES Center in Los Angeles, and American Airlines Arena in Miami, and events including the Super Bowl, World Series, U. S. Open, Kentucky Derby, NHL and NBA All-Star Games and the GRAMMY® Awards.
For details, visit www.levyrestaurants.com.
50/50 at Tim Hortons Field
A 50/50 draw is a lottery for which 50% of the ticket revenue generated goes to the winning ticket holder and 50% goes to the benefitting charity.
In 2017, The Hamilton Tiger-Cats have partnered with the Hamilton Bulldogs Foundation to bring electronic 50/50 to Tim Hortons Field.
By participating in the 50/50 program, our fans will be helping to raise proceeds to benefit charitable partners throughout Tigertown, including Tim Horton Children's Foundation, TigerTown PlayAction football teams, Hamilton Bulldogs Foundation and other worthwhile charitable causes.  At each event, we will make fans aware of the partner charity of the game.
For our November 3 game, ticket pricing will change to 6 for $5, 20 for $10 and 80 for $20 – offering our Fans a "2 for 1" special.
For a complete list of Rules and Regulations, click here.
Please play responsibly. Problem Gambling Helpline: 1-888-230-3505 or www.problemgamblinghelpline.ca.
Winning Numbers
If you have the winning number, call 905-547-2287 ext. 231 to claim your prize. The winner will have six (6) months to cliam the prize, with proof of the winning ticket.
* = Winning ticket has not been claimed.
Ticket selling locations around the stadium
You will be able to locate 50/50 Sellers at the following locations during each event. Please note, tickets will be sold until 5 minutes before the end of the 3rd quarter and the winning number will be announced in the first break of the 4th quarter:
Pioneer Gate (Gate 1)
First Ontario Credit Union Gate (Gate 2)
Premium Seating Entrance (Gate 3) – Sellers available from when gates open until beginning of game
Redtag.ca Gate (Gate 4)
Telus Gate (Gate 5)
Suite Level – Sellers available just off elevators from beginning of game time
Club Level – Sellers available just off elevators inside belairdirect Champions Club from beginning of game time
Level 3, West Side – Sellers located across from Sections 103/102 and across from Sections 108/107
Level 6, West Side – Sellers available from beginning of game time
Level 2, East Side – Sellers located on concourse between 118-116 and between 114-112
Level 3, East Side – Sellers located on concourse across from stairs to 212/213 and across from stairs to 217-218